Here at the Boston School of Boabom we not only offer classes specifically for children, but we can also arrange packages for families who wish to practice Boabom together. There are many benefits to learning Boabom as a family, beyond the obvious ones like getting in shape or learning self defense. Taking Boabom classes together with your kids can strengthen your family in so many ways. Read on to learn why you and your kids might want to study martial arts together.
On this article:
– Great Bonding Experience for Families with Kids of All Ages
– Shared Sense of Accomplishment
– Creating Structure
– Improve Performance in Other Physical Activities
– Cope with Stress and Anxiety
– Boabom is for Families
Great Bonding Experience for Families with Kids of All Ages
Certainly one of the biggest benefits of practicing martial arts as a family is that it's a great bonding experience, even if you're taking the class via Zoom. Just being in the same physical space together will help younger kids focus on breathing and movement. You'll have fun learning something new and interesting together, as you share an experience that you will all remember once your children are grown.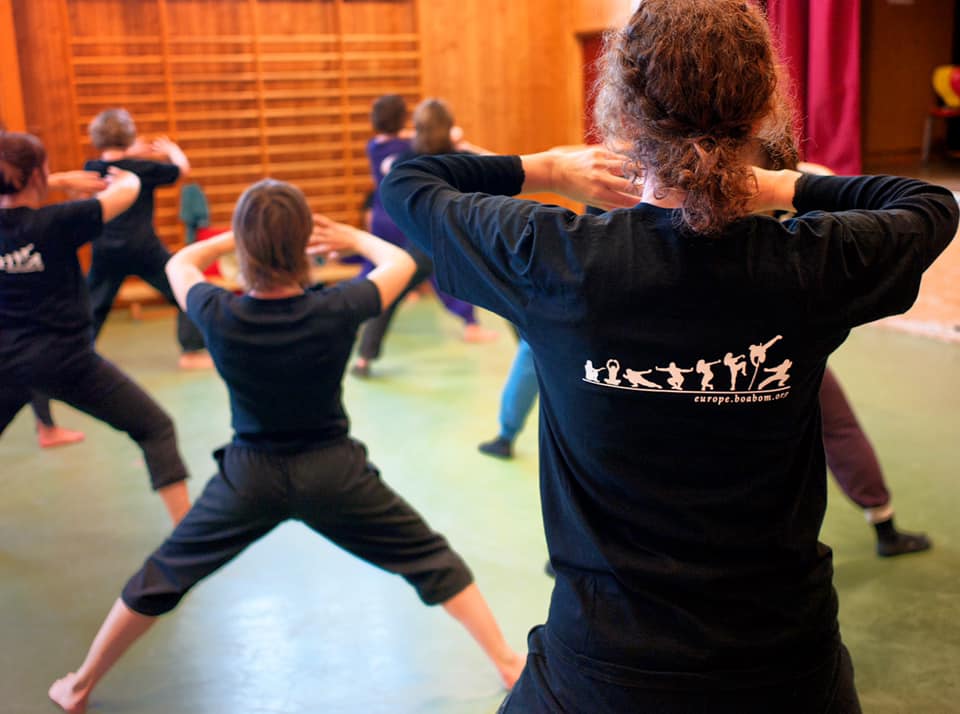 For parents of tweens and teenagers, martial arts can be a great way to maintain a sense of closeness during a time when your children are becoming more independent. By practicing movements together, you'll spend time learning as a family, moving and developing new skills without the opportunity to disagree or challenge one another—in fact, seeing each other struggle with new movements at first before really getting it can help everyone to feel more relaxed around each other. In a non-competitive enviornment like our Boabom classes, everyone can enjoy learning and seeing each other learn together.
Studying martial arts can also be beneficial for siblings who are farther apart in age, as they can bond through learning a new skill together. Our attentive teachers can tailor a class so that everyone—including the youngest family members—will enjoy their experience.
Shared Sense of Accomplishment
Taking Boabom classes together and progressing through the movements can give a family a shared sense of accomplishment. Kids in particular can relate if they see their parents struggle with and then get the hang of a particular movement as they see that everyone can learn something new. It's also very satisfying to celebrate your progress and accomplishments together as a family.
Creating Structure
Most kids (and adults!) really benefit from sticking to a routine. The structure of a regular martial arts class can not only give them something to look forward to during the week, but it can also teach them the importance of discipline as they see how regular classes let the whole family progress.
Improve Performance in Other Physical Activities
Whether you consider yourself a skiing, sports, hiking, or bicycling family—or even if it's just certain family members that have an interest in physical activities outside of Boabom—practicing martial arts can help you in other activities. In Boabom we learn a variety of breathing techniques, which many of our students use in other physical activities to improve their performance. The movements we learn help improve balance, flexibility, strength, and coordination, all of which translate directly to sports and other activities. And the class as a whole improves focus and makes us calmer in general.
Cope with Stress and Anxiety
While it seems that everyone has been affected by stress to some have been suffering from high levels of stress and anxiety. Practicing martial arts together can help you find a way to lessen the stress of everyone in your family, which can improve anxiety and general wellbeing. On top of this, the breathwork, meditation, and physical movements that Boabom teaches can help you and your kids cope with stressful situations outside of class as well. One hourlong class per weeek is a great way to have a stress-free, regular activity you can all look forward to.
Boabom is for Families
Boabom is a form of martial arts that is accessible to all ages, and our instructors are happy to work with you and your family so that every member can follow along and have fun!
Interested in experiencing for yourself the amazing benefits of studying martial arts together as a family? Contact us to learn more about family packages or kids classes.